Traveling in Australia
  After six months in Southeast Asia, it was time to go to Australia. The main reason we (me and my x wife who I met in China), was that we would work together  a new traveling funds. On February 17 -87, we landed in Perth  Western Australia. After about 12 hours in Perth, we  bought a Ford Falcon panelvan, with room to sleep in the back. Then we went east, crossed the nullabor Plaine and eventually ended up in Aderlaide. In Barossa Valley about 6 mil north of Adelaide, we got work as grape pickers. The job was hard and underpaid, so after just two weeks we had  enough and decided to live on our Visa cards. Through my good coonection with Renata Nilson "Kennel Reni's", as the family known for many years, I got sent to me some addresses of breeders of Australian Terriers that we could visit.

After Adelaide and Melborne we went to Sidney, where we had planned to visit the Elmore kennel. Unfortunately we didn`t
. After Sydney we went up to Surfers Paradise, located a few mil south of Brisbane. There we spent a week at the beach to sunbathe and swim. In Brisbane there was the Taralee Kennel, I called over there and we were welcome to come and visit. The holders was Mr and Mrs Woolcock.  Mr Woolcock was a veterinarian and had his practice in connection to the kennel. The dog yard was about 200 square meters and over 50 aussies got along side by side in this space. Woolcock knew exactly which dog was which. Three dogs were also showed separately for us, one female who was 16 years old and still in excellent shape, a very beautiful red high winning male and an 8-month b / t the junior, who later was exported to Finland (Taralee Bobby Dazzler). After that we looked at the male puppies, 2 red and 2 b / t. We got caught once for one of the b / t boys , which was slightly larger than the others and had great charm and charisma. Since we had not planned to do more work in Australia,  we quickly thought about haveing  a puppy to come along. The decision was not difficult to grasp, and
after a bit of paperwork and 300 Aussie dollars poorer, we went from Woolcocks with a little "Bobby" (Taralee Smal Potato).

Our first stop after bying  "Bobby" was Bundaberg, where we stayed for two weeks and "Bobby" was introduced to their first home, the front seat of our car. "Bobby" was a fearless puppy that soon became familiar with all the camp sites. As soon as we turned back he wandered off on his own explorations. Bobby proved to be a very good traveler and slept from we  started the car until it stopped. Next stop was Mackay where we stayed with a couple buddies. One day reading a local newspaper, my eyes fell on a headline "puppies for sale". An Aussie male puppy 9 weeks was advertised. I called the number, and we welcome the next day. Kennel name was Llandrow. It was run by Mr. and Mrs. Rowland and was situated in a sugar cane plantation outside Macay.
They did not only breed  Australian Terrier, but also some other short-legged terrier Fox, Cairn, Westis and even some Dachhounds. In the dog yard there were about 15 dogs and in this motley crew, there was a little Aussie puppy, who  believed him selves to be the most best and most beautiful. He was the one most heard  and  closest to the fence. The other dogs were very patient with the puppy and let him be. We took with "Bobby" into the house to meet little "Jacko" (Llandrow Pegasus) and "Bobby" was both yelled at, chased and flogged. "Jacko" was a charming fellow that we absolutely could not resist and 140 Aussie dollars poorer, we were the owner of two Aussie Puppies. "Jacko" and "Bobby" was very different both in manner and appearance. "Bobby" was disproportionate and awkward while "Jacko" was witty and good at playing and fighting. "Jacko" was dominant, a bellwether that rarely got the respect or submission of any other dog. After a few days, they had become accustomed to each other and went well together.


 We continued our journey and eventually came to Cairns, located in northern Queensland. "Jacko" was also found to be a good traveler and fell asleep as soon as the car was running. The biggest problem with traveling around was that the water in different locations of varying quality. They first days at new place had puppies constant diarrhea. We also had to give the puppies  heartworm pill everey day, and  comb through thair cot everyday  in search for ticks. About every fourth tick can be expected to be a "paralestic one, which paralyzes and kills a puppy in a few days.

Together with two Australian couples, we decided to go further into the jungle at Cape Tribulation, which is located on Cape York Peninsula in the far north. They also had dogs with them, a Kelpie, a Cattledog and a Lab. The road to Cape Tribulation was worse than expected. We had
anticipated that the road would be muddy, as the rainy season just had  ended, but we had not expected that it would be covered with two dc mud. There were also a number of rivers to cross, which reportedly signs  was occupied by both fresh and saltwater crocodiles. Nevertheless, we managed to take us up to Cape Tribulation in a couple of days. Once there, the petrol pump ended up working, but with an incredible luck we managed to get hold of a working pump and a person who could replace it. This happens in the middle of the jungle two days' journey from civilization. The puppies enjoyed the life they lived, constant attention and three companions to play with on the beach.

After this exciting week, we took farewell of our traveling companions and headed back to Cairns. From there we drove west towards Mt Isa and from there unto the border to Northern Territory, then north towards Darwin. An episode that  we  particularly remember was when Bobby almost
drown at Mt Isa. We arrived at Mt Isa in the afternoon and decided to camp out in the bush outside town. As usual wen we arrived in a new place, the pups was released to walk and play around. We had just got  fire and had started to cook when Jacko came running. He was worried and did not want to come and say hello as usual. Then it hit us, "Where's Bobby". A leap march in the direction of where Jacko came  from  ended up with me falling down in a river 1.5 feet straight down. Next to the riverside  Bobby was hanging  in a tree root  not be brought down  the River. I got a firm gripp in his neck and after a well-aimed throw Bobby was on land again. Bobby had barely landed when Jacko    threw himself straight  into the river to save his master. After a new rescue operation, me and Jacko was on dry land again. The rest of the night the puppies was sleeping like logs

Darwin was terribly hot and humid. In the days we mostly sat  in the shade and realaxing while the dogs rested under the car. There
were, however wonderful beaches and cozy pubs. Our neighbor at the camp had a red aussipup in the same age as our pups and when the sun went down they were playing with thair new buddie. After more than a week in Darwin we took a ride fore couple of days in the the world famous Kakadu National Park. It  was very beautiful with an abundance of wildlife and many beautiful waterfalls. Then we went west towards Western Australia.

In Katherine (where the only executable road for us to go to Western Australia start) we were stopped by the police. Between Katherine and Broome  two innocent people had bin shot dead in a place called Timber Creek. The road was quickly blocked from bouth directions.  Nevertheless, we decided to continue toward Broome. Two days later, we arrived at Kununurra, which is the first town after the border between Northern Territory and Western Australia. No camping in the city received two dogs, so we decided to go camp out ut in the bush. We found a nice spot right next to a lake. The sun went
down and we sat around the campfire and chatted. Bobby and Jacko got no rest, usualy they get to sleep under the car as soon as it got dark  , but now sometimes they barked and snarled  straight into the pitch black darkness. We started to think about the killer as they  not yet had gotten their hands on. The equipment was packed quickly into the car and we drove to nearby campsite, where we managed to smuggle in the puppies. We didnt think about the incident in Kununurra (thought imagination played a trick on us) , until three days later when we arrived in Broome. There we read in the newspaper that the day after we left Kunnurra  three more people had bin found murdered no fewer than three hundred meters from where we  first intended to camp. Guess if we got cold shivers down the spine.   

               The Kimerly Killer

Broome was a lovely town with a beach where we spent a few days to top up your tan. After Broome we continued south towards Perth, which was our ultimate goal. The car started to sound worse and worse, but since we only a hundred mil to go to Perth, we predicted that it would take us there. (the car had taken us about three thousand mil so far) . When we were about six mil from a small town called Canarvon  the engine cut together. We managed to be towed to a gas station. The manager helped us call around to people who might be interested in buying our Ford. In the end, he got hold of a buyer and we were two thousand dollars richer. After spending a final night in the car, it was time to try to get to Perth.

As the train barely existed in Australia and the dogs were not accepted on the buses, it was just to try to hitchhike. After a couple hours of waiting a truck stopped that was on his way to Perth. The dogs behaved exceptionally, on the twenty-hour journey. At six o'clock in the morning on 22 th June we arrived in Perth. We had too much packing to be able to carry everything, nowhere to live, no plane tickets home and the Visa cards were blocked. Since there is no quarantine between Ausralia and Sweden, we thought that it was just to book us and the puppies on a plane and go home, but of course it was not that easy. Airline ticket for the dogs should be booked at least a few weeks in advance and in addition, certain tests should be performed. We used
our last money to rent a car, so we had somewhere to sleep, bought tickets and boarded thr puppies in a kennel that used to export dogs and knew how to go about it. Two days later we left Austalien (Perth - Tokyo - Ancora - Copenhagen - Malmo). Three weeks later the puppies arrived  . We got permission from the Danish and Swedish customs to fetch them at Kastrup (copenhagen Airport). The cage they came in was sealed and was first opened by the county veterinarian when we were on Swedish soil. The pups were not affected after the long journey, except that they were very hungry. Bobby and Jacko adapted quickly to their new lives in Malmoe Sweden.

( From Aussiposten No. 3 - 87)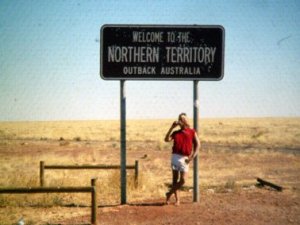 I`m drinking a cold beer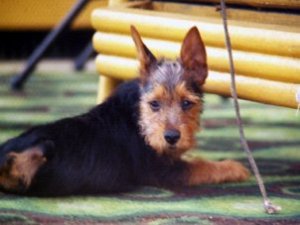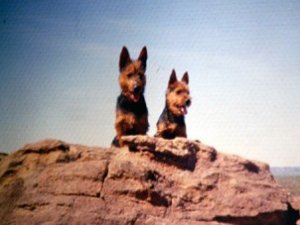 "Jacko"                                                                          Kakkadu National Park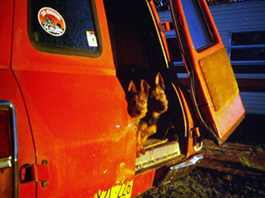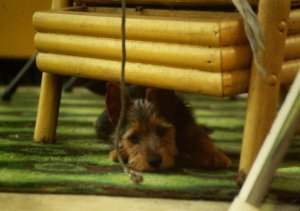 "Jacko" and "Bobby"                                        "Jacko"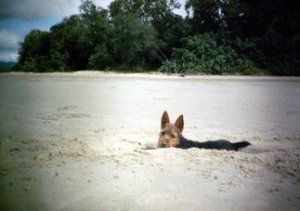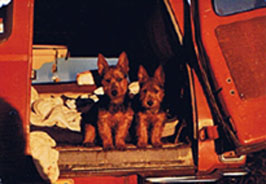 "Jacko" Cape Tribulation                  "Bobby" and "Jacko"

 hitchhiking with two
pups and lots of luggage